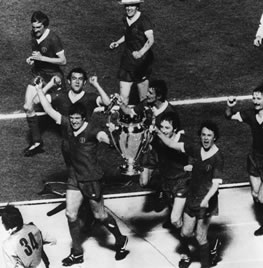 25 May 1977
If winning the FA Cup for the first time in 1965 is regarded as the greatest day in the history of Liverpool Football Club, then there is no doubt that winning the European Cup for the first time in 1977 was the greatest night.
May 25 1977, like May 1 1965, is a date that will forever hold special significance for Liverpudlians. For it was on this balmy night in the Italian capital of Rome that Emlyn Hughes proudly held aloft the gleaming silver trophy that is the European Cup – the greatest prize in club football.
It was the culmination of 13 years endeavour and the start of an unprecedented period of dominance by an English club in Europe. A further four European Cups have followed but the first triumph will always remain the most precious.
Ronnie Moran (LFC coach 1969-99): "We'd lost in the FA Cup final, the previous Saturday, and everyone was disappointed about that, not just the players. We knew we had the big game in Rome on the Wednesday, so it was a matter of pulling our heads up. We didn't need to kick anybody up the backside, they just rallied around again, which is why we got the good result in Rome."
A mass exodus of Reds fans converged on the Italian capital to cheer on Bob Paisley's charges. It was the biggest ever migration of football fans from these shores and the sea of red and white chequered flags that greeted the players gave them an almighty lift ahead of the biggest game in the club's history at that time.
Terry McDermott (LFC player 1974-82): "Rome will never fade from my memory. I'll always remember it until the day I die, walking out into the stadium and seeing the red and white chequered flags, I've never seen anything like it and I've never seen anything again since. It was just an amazing atmosphere and an incredible feeling to see those fans. There must have been at least 30,000 Scousers there and it was just phenomenal. We walked on to the pitch about an hour before and thought 'Christ, how can we get beat for these lot' and obviously we didn't."
Tommy Smith (LFC player 1960-78): "The '77 European Cup final was the one when I did notice the crowd. We went out to have a look what was going on in the Rome stadium and three-quarters of it was Red. I couldn't believe it and it did hit you, 'we've got more supporters than the Germans' and bearing in mind it's not that far away you thought that they would be there."
Emlyn Hughes (LFC player & captain 1967-79): "I remember walking out onto the pitch before the game and I thought to myself 'Jesus Christ we're back in Liverpool!' There were that many punters from Liverpool there. We were greeted by a sea of red and white. The support of the fans gave us all a terrific lift and all the lads were saying to each other how there was no way we could lose the match now. It was like playing at home. I can imagine what the Borussia players must have thought when they walked out. They must have looked around and thought they had no chance against such support. It must have seemed like they were playing at Anfield."
Among the mass of flags that greeted the Liverpool players the most eye-catching was without doubt the one in tribute to the European heroics of popular full-back Joey Jones. With reference to the games against St Etienne, Zurich and now the final against Moenchengladbach it read – Joey ate the Frogs' Legs, Made the Swiss roll... Now he's Munching-Gladbach. Measuring 24 foot by 8 foot and assembled by Kopites Phil Downey and Jimmy Cummings the banner had snowballed as the Reds had progressed in Europe that season.
Phil Cummings (LFC fan): "Originally it was just the 'Frogs Legs' The 'Joey makes the Swiss roll' was a natural for the Zurich semi-final. But we puzzled for hours over what to do for the final. Then my mum came up with a solution – run them all together. That's how it came about."
Joey Jones (LFC player 1975-78): "There was one or two banners at Wembley that had made me laugh, but when I walked out in Rome's Olympic Stadium and saw that one it made me feel about ten feet tall. The sight of all the Liverpudlians in Rome lifted me more than anything else. I honestly didn't expect there to be that many of them there. They outnumbered the Germans by about three or four to one. It was amazing what some of them had done to get to Rome."
Against a Borussia side that included established international players like Vogts, Bonhof, Heynckes and Simonsen the task facing Liverpool was an almighty one but with such fanatical support ringing in their ears they took to the field in confident mood and snatched the lead through Terry McDermott midway through the first half.
Tommy Smith: "We got out there and I think on that night, we not so much became a European side, but we played like a European side. Terry McDermott's first goal was outstanding. The little one-two, bang, bang, bang and he lifts it over the goalkeeper. Absolutely brilliant."
Terry McDermott: "My goal I remember perfectly well. I've seen it that many times on television. Although it wasn't the best, it was the most important. Cally passed the ball to Heighway and he's played a great through ball to pick out my run. I've got Wolfgang Kneib – he was about 9ft 2in – running out at me. I thought, 'Aye aye, hit it before he comes and clatters me.' It could have gone anywhere, but it went in the back of the net."
As the half time whistle sounded the flags came out again to acclaim a job well done. So far so good was the general consensus back in the Liverpool dressing room but in his half-time team talk Paisley warned his team against complacency. However, they were words of advice that Liverpool failed to heed and six minutes after the restart the Germans hit back to draw level.
Emlyn Hughes: "Every team, no matter who you are playing, get at least a couple of chances in a match. Borussia were no different. They had a five-minute spell were they were on top and they took full advantage by grabbing an equaliser."
The otherwise faultless Jimmy Case – Europe's young footballer of the year in 1977 - was the unfortunate Liverpool culprit, misplacing an intended back-pass to Clemence and providing Borussia's Allan Simonsen with the chance he'd been craving all night. The Danish striker pounced quickly on Case's mistake and in a flash whipped a shot past a helpless Clemence and into the top corner of the net.
Tommy Smith: "They scored a goal, a bad pass by Jimmy Case, but we took the game to them, were patient and we didn't go gung-ho. It was 1-1 and then I scored, which was very unusual."
From a corner on the left by Heighway, the Anfield Iron, in his 600th game for the club, rose like a phoenix from the flames to send a bullet-header crashing into the back of the Borussia net.
Tommy Smith: "They failed to do their homework. We had arranged beforehand that I should go up for corners but they hadn't prepared for it and I was left unmarked. Stevie (Heighway) was expected to chip the corner in and the idea was for me to flick it on to Keegan and generally cause confusion in their penalty area. Instead he drove the ball into the centre, I ran to meet it and connected with a perfect header. The goalkeeper never moved. I'd compare it to serving an ace in tennis or hitting a hole in one in golf. Everything about it was perfect."
With eight minutes remaining Kevin Keegan, playing the game of his life, picked up the ball just over the halfway line and, with his shadow Bertie Vogts trailing in his wake, embarked on a surging run that took him to within shooting distance of the Borussia goal. As he teed up his shot from 12-yards out Vogts predictably sent him sprawling to the turf. It was as clear-cut a penalty as you'll ever see. Referee Mr Wurtz had no hesitation in pointing to the spot and up stepped Phil Neal to seal Liverpool Football Club's most momentous triumph.
Phil Neal (LFC player 1974-85): "It was up to me to finish the game off and it was a long agonising walk up to that penalty spot. It was Kevin's swansong game. He took Berti Vogts everywhere and in the end Berti got frustrated, brought him down, penalty! I've got a 50-yard walk to that penalty spot and what I remember most before taking the kick is Cally, who has played a million games for this club, on the edge of the box and his hands are in a prayer position saying: 'Come on Nealy, please!' I knew that if I scored it would finish the game off but I wasn't nervous when I stepped up. When I walked out of the tunnel before the game it struck me that Wolgang Kneib was about two or three inches taller than Clem and I decided then that if I got a penalty I would keep it low because he would struggle to get down for it. This is what I did and it rolled in off the post."
This was the moment the club had strived for since that Sunday afternoon back in August 1964 when they set off on their first ever European excursion to Reykjavik and for Bob Paisley, the longest serving member of the Anfield staff, it was the ultimate triumph.
Bob Paisley (LFC manager 1974-83): "To come away from Wembley and play like that was a feat in itself. Then our spirit was further tested when we made a mistake and gave away a brilliantly taken goal. Their response speaks volumes for the players and shows just what great professionals they are. We've done the country proud and this is my greatest moment."
Success in Rome was the fulfilment of a 13-year odyssey for players, staff and fans alike.
Emlyn Hughes: "I remember walking up those steps to lift the cup and I felt privileged to do so. I was not thinking about myself, Kevin Keegan or the rest of the lads who'd just won the match. The names that were flashing through my mind were the likes of Roger Hunt, Ian St John and Ron Yeats, Shanks and Rueben Bennett. These were the men who had given us the chance to win the European Cup and who had put us in the position that we were in. As I reached out to collect the cup I knew that it was as much for them as for us.
Bill Highton (LFC fan): "For me, it wasn't so much the game itself or the result, although both were great of course. There was a feeling that we had kept faith with those who went before us. I remember on the coach going back to the airport being in awe of two older fans. They had been to Milan in '65 and seen us robbed in the semi. For them it was journey's end. There was a kid of about ten also on the coach. For him the journey was just beginning."
Kenny arrives from Celtic