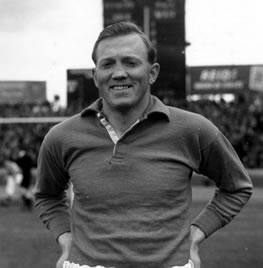 12 September 1946
A £12,500 transfer fee may not sound much these days but in 1946 it was a massive amount of money for Liverpool Football Club.
That's how much chairman Billy McConnell and manager George Kay agreed to pay Newcastle United for a striker who'd scored an incredible 237 goals in 199 games.
Having wowed the Geordies until the age of 27, Albert Stubbins was now ready to become a Liverpool legend ¿ but it nearly never was. Later in life, Stubbins admitted he could easily have chosen Goodison over Anfield.
"I actually decided to join Liverpool on the spin of a coin," he said. "Both teams wanted to talk to me and it was a very difficult decision to make.
"During the war we had a few guest players from Liverpool at Newcastle and so I suppose I always had a slight inclination towards them. Everton, though, were also a famous team at the time and were known as the Team of Talents."
Stubbins was in the cinema when he found out about the move, with the following notice appearing onscreen: "Would Albert Stubbins please report to St James' Park."
He continued: "This was about six o'clock and I went up there to meet Mr George Kay and Mr Theo Kelly, representing Everton. Stan Seymour, the Newcastle director, said: 'Which representative would you like to see first?' I said: 'Let's flip a coin. Heads Liverpool. Tails Everton.' It came down heads. Bill McConnell, George Kay and myself discussed matters and I was impressed with them both, and with the possibilities of Liverpool, so I said I would go to Anfield.
"I also knew several of the Liverpool players at the time like Willie Fagan and Jack Balmer. That probably gave Liverpool the slight edge and in the end I never spoke to Everton because I had been so impressed with Liverpool's offer."
Stubbins scored on his debut against Bolton and quickly formed a potent attacking partnership with Jack Balmer. They each netted 24 goals that season as Liverpool landed the title with a team that also included Billy Liddell and Bob Paisley.
Stubbins went on to score 83 goals in 178 first-team appearances for the Reds.
Balmer hits a treble treble